---
Vic Church
(Feb. 7, 1915 - May 30, 1997)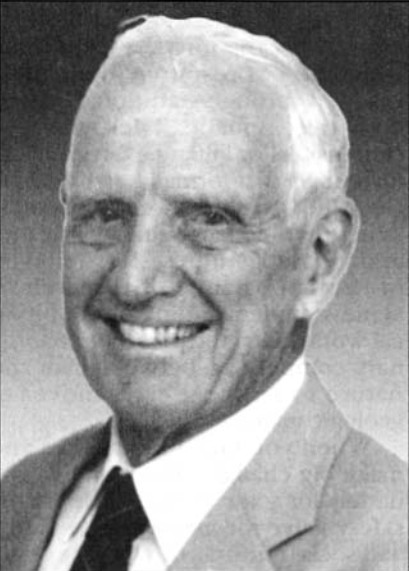 H. Victor Church was born in Berwyn, Illinois, a suburb of Chicago, in 1915. After graduating from the high school where his father was principal, he entered Carleton College, Minnesota, on a four-year scholarship. He majored in geology, was elected to Phi Beta Kappa and graduated magna cum laude in 1936.
California Institute of Technology offered him a Fellowship where he received his MS in geology in 1937. He then entered the University of Chicago on a Fellowship to begin work on his PhD, which was granted to him in 1940 for his work in the Gros Ventre Range of Wyoming. That was the year he married his college sweetheart and they moved to Utah where Vic taught at Utah State College in Logan for four years before moving to Deep Springs Junior College east of Big Pine.
He left the teaching profession to join Shell Oil Company in Bakersfield, California, in 1945 and progressed rapidly, being named District Geologist within three years. Shortly thereafter, a small expanding firm, Oceanic Oil Company, offered him the position of Chief Geologist, later becoming Exploration Manager, and there followed an aggressive exploration program which resulted in numerous successes. But his desire to become independent led him first into a partnership (Beach, Church and Bell), and then, in 1961, into consulting which he continues to the present. Concurrently he was Manager of Exploration for the small Vista Petroleum Company (1962-65) and (from 1969) a co-ownership in G.E.C. Oil and Gas Company (Green, a drilling contractor; Eastman, an engineer; and Church).
Vic has been an active member of AAPG for forty years. He has delivered papers at National, Pacific Section and local meetings, and has served on various society and national committees, including the Advisory Council (1983-86). He has been president of the San Joaquin Geological Society (1952-53), and Chairman of the House of Delegates (1980-81), and was awarded Honorary Life Membership in the Pacific Section (1982). He was active in establishing a Well Sample Repository at California State College at Bakersfield in 1976, and is the consultant and project manager of this facility, which is the only one in California open to the public. It is widely used by the oil industry, government agencies, colleges, and students, both in and out of the state.
Vic has always had a deep love for classical music, which led him to contribute to the community by active participation in the Bakersfield Symphony, and by presiding as president of several Bakersfield music organizations. Other hobbies include tennis and travel. He and Virginia together have been to one hundred ten countries on six continents, and Vic recently added the seventh continent, Antarctica, where he swam in the waters off Deception Island.
From: Stinemeyer, Edwin H. (1987), "Pacific Section Member Honored", Pacific Petroleum Geologist Newsletter, Pacific Section-AAPG, v. 1987, n. 3 (April/May), p. 1.
[Note: Vic passed away on May 30, 1997 in Bakersfield, California after a bout with cancer. He helped in 1975 to found the California Well Sample Repository, and served the repository as a Director and Consultant for the next 22 years, right up until his passing. Also, he and his wife Virginia left a generous legacy to the endowment fund for the facility. Vic and Virginia's generosity and service was honored on November 17, 1999 with the placement of a memorial plaque on a giant 36-inch diameter core located near the entrance to the Well Sample Repository - this core having been cut in the late 1930s from the foot of Friant Dam at the boundary between Fresno and Madera Counties, California. Virginia Church (b. 1915) passed away quietly on January 7, 2005 at her apartment in Bakersfield.]
---
Jack Coash
(Sept. 24, 1922 - March 21, 2019)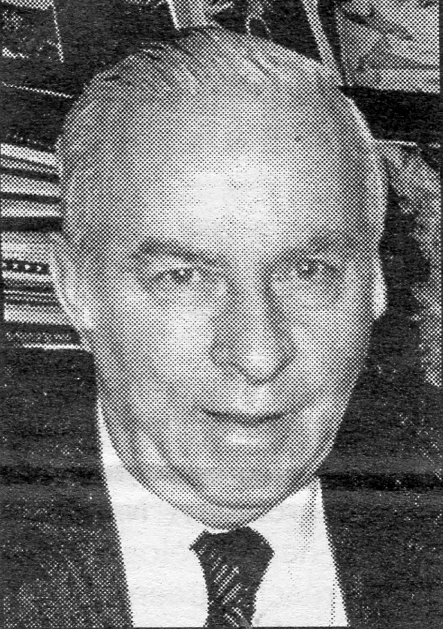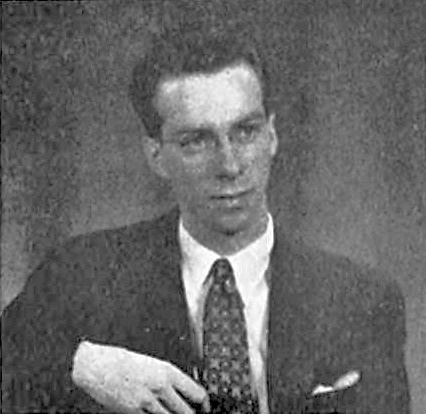 I came to Colorado College, from Cleveland, Ohio, in Fall 1940, on a work/study grant (dusted every book in Coburn Library). Took Geology to satisfy science requirement and decided to major.
In the fall of 1941, I was playing violin with the college orchestra, at a Theater Dept. production up at Cripple Creek. The production was halted and the announcement was made that the Japanese had bombed Pearl Harbor! I was drafted at the end of December, and served 3+ years in the Army Signal Corps, including 1+ years in India, where I roamed the foothills of the Himalayas. Returned to CC after the war, worked at the Faculty Club and became student assistant to Prof. Don Gould, (where I met Walt Sweet) and gave my first lecture in the "pit". I was a member of Sigma Xi and Phi Beta Kappa. Graduated with honors, June 1947.
Went on to graduate school at CU in Boulder (MS 1949), where I met and married Emily Rocque (Navy nurse). Worked part-time for Conoco, to supplement the GI Bill. We had three children.
Fall 1949, moved to Ohio, as Assistant Professor at Bowling Green State University. Served there for 17 years as Full Professor, Department Chair, Director of Honors Program, Director of Grants Office, and Director of 2 NSF Summer Institutes for Earth Science teachers. Also attended 2 summer institutes – Oceanography (at Florida State) and History of Geology (British Isles). One year break to attend graduate school at Yale University – PhD in 1954, dissertation on Mt. Velma quadrangle in Northern Nevada, published by Nevada Bureau of Mines. Ran summer field camps for 9 years at the Nevada site (and one year at CC). During this time, I was a member of AAPG and the Society of Research Administrators, a Fellow of AAAS and GSA, Vice-President of the Ohio Academy of Science, and President of the National Association of Geology Teachers (as well as President and Founder of the EC section). And served several years as an officer in the US Army Reserves, Corps of Engineers (Toledo, Ohio). In addition to the dissertations, there were several papers relating to geologic eduction, as well as presentations at professional symposia.
In 1966, I was offered a 6-month appointment as supervisor of the AID-sponsored program of summer institutes for college teachers of Geology across India. This led to a position with the National Science Foundation in Washington, DC. Two years later, an offer came to serve as science dean at the new state college in Bakersfield, California. We had two years to build, hire faculty, set up curricula, and recruit students. One of the attractions was that all academic administrators had to teach one course each year. Finally, in 1987, at age 65, I retired as Dean Emeritus of the School of Arts and Sciences, at California State University, Bakersfield (now with enrollment over 10,000).
My last professional activities were a paper on teaching geology of the national parks to non-majors (co-author, S. Smaglik), at the GSA in Denver, 1988, and a paper, "Perceptions of the Early Railroad Surveys in California", published in Earth Sciences History Journal in 1992.
I am most grateful for the start to my career, provided by Colorado College.
From: Coash, John Russell (2016), Alumni Spotlight - John (Jack) Coash '47, PЄ Basement, Colorado College Geology Dept., v. XVII, p. 16.
[The picture above and right is of Jack Coash from the 1947 Annual Yearbook of Colorado College.]
---
Ed Sprotte
(Nov. 5, 1920 - May 22, 1998)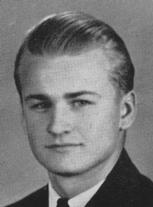 Edward (Ed) Clifford Sprotte was born on November 5, 1920 in Los Angeles, California to Charles W. Sprotte and the former Hazel Isabell Clifford. He grew up in southern California, and graduated in 1938 from South Pasadena High School, continuing on to Pomona College where he graduated in 1942 with a degree in Geology. The United States in the meantime having entered WWII, Ed enlisted as a 1st Lieutenant in the U.S. Marine Corps, and was wounded in action overseas, for which in 1945 he received the Purple Heart medal. He transferred after the war to inactive duty with the Marine Reserves, and retired several years later with the rank of Major.
Ed prior to his military service married Norma Fredrika Anderson (1915-2000), and they settled down after his return from WWII to raise a family of four children. He also embarked on a long career, starting as a Quaternary Geologist with the U.S. Geological Survey in southern California. He moved several years later to Bakersfield, California where he was a senior geologist in the 1970s with the California Division of Mines & Geology. He was Registered Geologist No. 1287 with State of California, and published during his time with the Division several papers as author and co-author on the Quaternary Geology and Seismic Hazards of California. He also helped found the California Well Sample Repository in 1975 in Bakersfield, and served for four years as Chairman to the Advisory Committee for the facility. He retired from the State, and finished his career by consulting in the 1980s for Slosson & Associates in Simi Valley.
Ed and Norma retired to San Diego County, California, where he passed away on May 22, 1998 in the town of Fallbrook. He was survived by his wife Norma, his son William Sprotte of Chico; daughters Patricia Sprotte of Fallbrook, Maggie Jenkins of Encinitas and Jan Whittington of San Diego; and four grandchildren. Norma passed away on December 9, 2000 in Fallbrook.
By Mike Clark, January 2019.
[The above picture of Ed Sprotte is from the 1938 Annual Yearbook of South Pasadena High School.]
---
Jim Weddle
(April 18, 1931 - Sept. 30, 2018)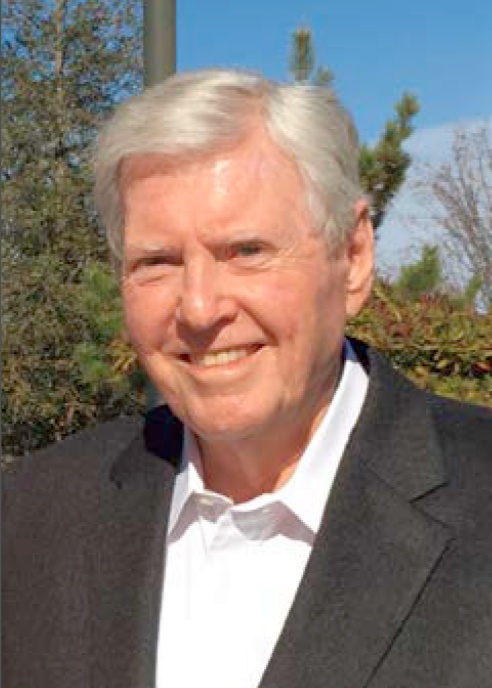 James (Jim) R. Weddle, born April 18, 1931 in Berkeley, California passed away September 30, 2018. A private interment service was held at Bakersfield National Cemetery [in Arvin].

Jim was preceded in death by his parents, Herman & Marjorie Weddle, brother Roger, and wife Alta Weddle, who passed in 1996 after a lengthy illness.

Jim is survived by his wife, Evelyn Hall Weddle whom he married in 1998, his daughter, Eilley Brandlin and husband Rick, and daughter Sarah Weddle Schaefer and husband Don. grandchildren, George and Josephine Brandlin, Hypatia Luna and husband Jesse, daughter Inez, Zachary Kevorkian; together with his step-children, Sammye Hall, Vanessa Wigton and husband, Don; his step-grandchildren, Erika Bahnik, husband Jean, son Christian and daughter Isabelle, Jacqulene Maegert, son Gabriel and daughter Mia, Brett Skinner and wife Aimie, Brandon Wigton, wife Kelly and daughters Cwynn, Ally & Lily, all of whom had a close and loving relationship as their grandfather.

Jim graduated from East Bakersfield High School in 1949. He attended U.C. Berkeley (Cal) for one year before enlisting in the USAF during the Korean War. He served in special weather intelligence at Elmendorf AFB in Anchorage, Alaska. During this time he met and married Alta Bailey in 1954. Upon completion of his military service they moved to Berkeley, California. Using the G.I. Bill, Jim resumed his education at Cal, receiving a Bachelor or Arts degree in palentology in 1957. The year of his graduation came the birth of daughter Eilley, with a second daughter, Sarah, following two years later.

After graduation, Jim accepted a position as Junior Engineer with the State Division of Oil and Gas (DOG), and moved to Sacramento, California. He ended his career with the State as Chief Deputy of DOG in 1976.

Jim began his consulting business in Sacramento offering geology and property evaluation services to the oil industry. The majority of his business grew in Bakersfield and Los Angeles, so the family moved to Bakersfield where his business was incorporated as San Joaquin Energy Consultants (SJEC). With Alta's help in the office, he built a broad list of clients to whom Jim furnished geology, property tax, and environmental compliance, as well as property appraisals. SJEC became the largest independent property tax company in California representing over 60 small and large oil companies, including Chevron, Texaco, Mobil, and Berry Petroleum. Jim Retired in 1998.

His passion for reading and hobby collecting books for his library was well known. He was especially interested in Mark Twain and modern mystery writers. He served as a consultant to the board for the California State University of Bakersfield (CSUB) Library. Over the years, Jim was active in local charitable and civic organizations, including a Paul Fellow member of Rotary International, American Heart Association, American Cancer Association and Mercy Hospital Foundation Board.

Jim established two local scholarship funds in honor of his parents; Herman Weddle Scholarship Fund for the Geology Department of CSUB and the Marjorie Weddle Scholarship Fund with the Bakersfield Symphony Foundation. Contributions may be made to either of these scholarship funds in his honor.
From: Pacific Petroleum Geologist Newsletter (2018), Pacific Section-AAPG, November & December 2018, p. 5.